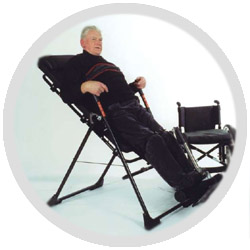 Back pain is one of the major problems in our society today that causes not only individual health problems, but affects the society in general.

With the focus on finding a solution for this problem that can satisfy Australian market in so many regards, we have turned to the most outstanding worldwide health solution for people of all ages focusing on back, neck, shoulder, hip, knee and circulation problems in the field of prevention, rehabilitation, sports performance and general wellness.

We are the distributors of Mastercare AB, one of Europe's leading company in the speciality of traction tables, designed for self-treatment and professionals use as well. Mastercare company was established in 1987 and has built a reputation for outstanding treatment results, product performance and endeavours in the field of occupational health care, clinical use, and self treatment in the home.

Their products, with their unique safety concept, are ones of the most scientifically approved, and professionally backed up inversion traction systems on the market today.


Please browse our following sections:



wholesale & retail info


Whether you're interested in Mastercare Inversion Table system just for yourself, your company, or if you're interested to retail this world famous product, here is the info that you need to start with.



user voices


Mastercare system is not magic, and surely not some new age fantasy - well known people from all walks of life and world famous companies have already tried Mastercare Inversion Table solutions and will surely do just one thing: never go back in the world without it!



contact us


Are you an individual interested in Mastercare system to help yourself dealing with the pain in back? Or maybe you want to help yourself on time? Are you representing a company that cares about its future, and you're interested to help reduce sick days and to increase productivity together with wellness of your employees? In any case, just contact us and we'll provide the service you need.

Go to next section:


wholesale & retail info