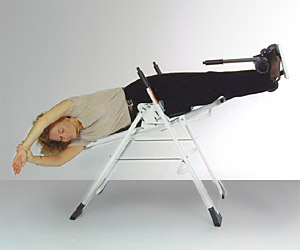 RELIEVE YOUR PAINS, AUSTRALIANS


The Unique Swedish Mastercare Inversion Therapy Table is now available in Australia. Experience the advantages of Natural Stress Relieve with Mastercare.



MASTERCARE - WHAT IS IT GOOD FOR?


Mastercare, The Swedish Back Care System, is being used for the prevention and rehabilitation of back, neck, shoulder and knee problems by thousands of therapists, sports trainers, professionals and individuals worldwide.
Pain in the lower back.
Joint stiffness.
Nerve root pressure.
Pelvic pressure.
Ankle-Knee-Hip dysfunctions.
Neck pain.
Sciatica.
Muscle spasm.
Joint inflammation.
Shoulder stiffness.
Disc problems.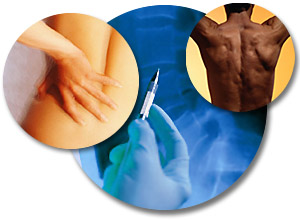 MAIN FEATURES
Very easy to use.
Both supine & prone position possible.
Moving backrest.
Robust construction.
Fits all body sizes between 150-215 cm.
Equipped with 4 fixed positions.
Soft backrest.
Folds away easy for storage.
The Mastercare system is unique: it has patented moving backrest and the quality and safety concept.
It's the only scientifically tested and approved self-traction table in the market.
ABOUT MASTERCARE COMPANY


The Mastercare AB was established in 1987 in Sweden and has built a reputation for outstanding treatment results, product performance and breakthroughs in the field of occupational health care, clinical use, and self treatment in the home.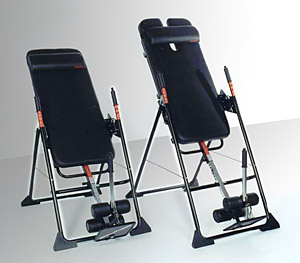 The Mastercare product, with its unique safety concept, is the most scientifically approved and professionally backed up inversion traction system on the market.



HOW MASTERCARE HELPS?


Back pain is one of the most common problems in the industrialised world today. Some 80% of all people in the developed countries suffer from backache at some degree. Millions of working days are lost each year as a result.

Mastercare, the Swedish back care system, was designed to help us relieve backaches, which may turn into serious illness if not treated on time.

Mastercare is very easy to use - first, it will let you relax. You will feel pleasant relieving of your joints, realignment of your pelvis and spine. When your joints are relieved off pressure, muscles stretch and relax, and blood circulation increases.

Mastercare's backward-inversion helps return of venous blood to the heart and lungs, which then gets faster oxygenated. Oxygenated blood runs then into brain.

The brain has a high metabolic rate, accounting for 20% of oxygen consumption in our body. By getting more oxygen-rich blood, our headaches caused by everyday stresses (which are in turn caused by shallow, rapid and improper breathing) will relieve as well.

Shortly, Mastercare helps bring our body back to normal and healthy function.



CONTACT US


We are Mastercare's established distributors for Australia, who are dedicated to achieving total customer satisfaction and pain relief. Contact us anytime!




Go to next section:




user voices